Call of Duty Mobile Teases Upcoming Legendary Character Skin
Activision shares a teaser confirming that a legendary skin for Mace will be coming to Call of Duty: Mobile in the near future.
This past November, Call of Duty: Mobile introduced its very first legendary rarity character skin, the Dark Side skin for Nikto. These legendary skins are a step up in quality compared to other character skins in Call of Duty: Mobile. The skins have extra perks and unique animations that let players who use them stand out from the pack. Of course, they also are incredibly rare drops from the lucky draw loot box system. Fans have shown they want this kind of content, though, which is why Call of Duty: Mobile is teasing more.
Legendary Mace 🧡🔥#CODMobile pic.twitter.com/qD0ylj1k38

— COD Mobile Leaks & News (@CODM_Updates) April 26, 2021
In a post shared on the official Call of Duty: Mobile Twitter account, Activision teased a brand new legendary character skin coming to the game. Alongside a teaser image, a message on Twitter says, "Chained… and enraged. A legend imprisoned.." and then says the skin will be coming to Call of Duty: Mobile soon. The teaser image itself shows a dark, tunnel-like location with a chained man kneeling. That man is the popular Call of Duty character Mace.
Cyberpunk 2077 Mission list | Resident Evil Village System Requirements
Mace appears in the next Call of Duty: Mobile character
As such, Mace appears to be the next Call of Duty: Mobile character to be receiving a legendary skin. Mace was first introduced in the 2019 version of Call of Duty: Modern Warfare as part of its Season Two post-launch content. He's a unique operator, wearing a mask that with a skull-shaped faceplate that makes him stand out from other characters. Mace's Call of Duty: Mobile legendary skin features heavy armor with glowing red lines across his body, furry shoulder pauldrons for what could be a cape, and plenty of chains.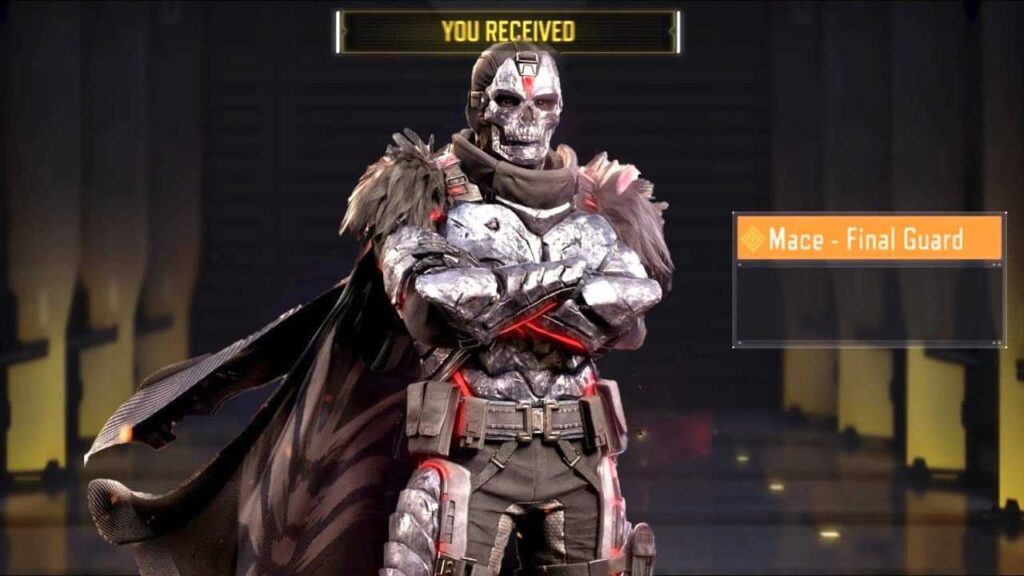 Availability of the new Mace legendary skin has yet to be revealed, but it's expected to be released sometime soon as part of Call of Duty: Mobile's next update. It'll be the only legendary skin released as part of the update, with a new map, perk, scorestreak, and operator skill also expected. There are hints that the update could come as soon as the second week of May.
For those hoping for an early look at the Mace legendary skin, there have been several leaks over the past week or two. Oddly enough, the leaked legendary skin does not feature any chains, so the teaser image must be referencing some sort of story elements for Mace and the skin.