Whether you're building a new PC or upgrading an existing system that was once one of the best gaming PCs but now struggles to tackle today's games, the best RAM kit for your money depends on the platform you pick and the type of workloads that you plan to run. In recent years, every modern desktop system has utilized DDR4 RAM and supports the baseline DDR4-2133 data rate by default.
The hard part is evaluating whether faster memory has a noticeable impact on your system when choosing the best RAM. For example, if you're running an Intel system with one of the best graphics cards, most programs won't respond in a meaningful way to faster or slower system memory. On the other hand, some workloads will scale well with higher data rates, including some games and software.
Best DDR4 and DDR5 Gaming RAM Kits
In short, the best RAM for you is faster memory if you're gaming without a dedicated graphics card, if you're running an AMD Ryzen system, and in some isolated scenarios with Intel chips. But if you don't care so much about squeezing the best performance possible out of your hardware, DDR4-2133 memory should be drop-in compatible with any modern PC platform, regardless of whether it's Intel or AMD.
Memory speed makes a big difference if you're gaming with integrated graphics, whether an Intel or AMD processor (you can see how they stack up in our CPU Benchmark Hierarchy). The graphics engine that's baked into most best CPUs for Gaming doesn't generally have its dedicated memory (as discrete graphics cards do). Turning up the clock rate of your system memory also generally increases performance (again, the performance uplift varies significantly from game to game). Therefore, the best RAM for those systems is faster memory if mainstream gaming is essential to you. Keep in mind, though, that if you have to pay top dollar for the fastest RAM to get playable frame rates, you're better off buying slower system memory and a discrete graphics card.
Cyberpunk 2077 Mission list | Lost Ark: Best classes for Gamers
Intel VS AMD Processors for RAM
Intel's 12th Generation Alder Lake processors are the first mainstream chips to support DDR5 memory. We already have a few kits in the lab for evaluation to see whether the new breed of memory can rival the fastest DDR4 RAM available on the market.
But, AMD's Zen-powered processors benefit more from higher memory frequencies. It's because the company's "Infinity Fabric" (the internal bits that link various logic blocks inside of Ryzen CPUs) matches the memory bus's speed. You can read about this in detail here. Increased memory speeds on Ryzen-and Thread ripper-based platforms often translate to real-world performance gains. In games, that means higher frame rates at mainstream resolutions like 1080p (1920 x 1080) and a smoother performance at higher resolutions. But the number of extra frames you get with faster RAM will vary significantly from one title to another. So, some games are just more GPU-bound.
How to choose the best RAM for your gaming Processors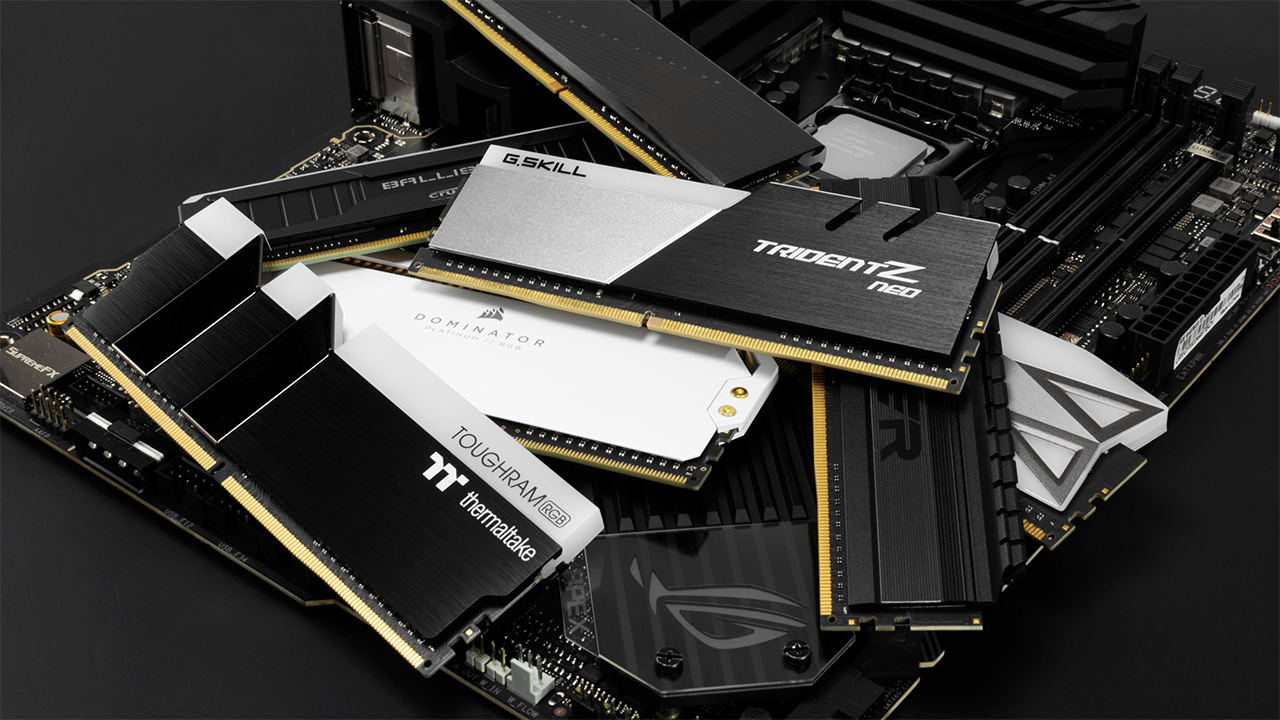 For many users, 16GB is the current sweet spot. Programs continue to get bigger and require more memory over time, whereas 1080p and 4K video formats are more common. In addition, PC games are getting more demanding, and websites have become complex by the day. While heavy multitaskers and prosumers may need 32GB to avoid tapping into much slower disk-based virtual memory, 16GB is far more affordable and sufficient for gaming and mainstream productivity tasks.

Memory speeds advertised as part of an XMP profile might not be achievable on AMD-based motherboards. XMP is a sort of automatic memory overclocking setting designed for Intel motherboards. Some motherboard makers offer BIOS settings to help you achieve these faster speeds on AMD motherboards. But these settings aren't present on all motherboards, and they don't always work when they are present.

Want the fastest RAM speed on an Intel platform? Get a K-series CPU. Non-K-series Core i9, Core i7, and Core i5 processors have the same DDR4-2933 limit imposed by Intel's lesser H470 and B460 chipsets. Core i3 processors have a lower limit of DDR4-2666. While most motherboards lack XMP, those with it will more easily configure XMP memory with enhanced timings. Note, though, that these rules have changed with Intel's latest Rocket Lake platform. Memory overclocking is now available on motherboards with non-Z chipsets.

Dual-rank memory is faster than single-rank memory. In addition, tests show that dual-rank memory kits offer better performance than a single-rank memory kit, regardless of whether it's an AMD or Intel platform.

Always buy a single memory kit for your desired capacity. Never combine two memory modules or memory kits, even if they're from the same vendor and product line. Mixing and matching may not always produce a desirable result, and sometimes manual tweaking is required to achieve stability.

Want the best plug-n-play experience? First, pick a memory kit that coincides with the official memory frequency supported by your processor if you want to avoid minimum to zero manual intervention. For example, DDR4-3200 is the baseline for AMD's Ryzen 5000 and Intel's 11th Generation Rocket Lake processors.

Got an 11th Generation Rocket Lake CPU? Remember that only the Core i9 processors support DDR4-3200 on Gear 1. The remaining Rocket Lake chips do DDR4-2933 on Gear 1 and DDR4-3200 on Gear 2.
List of Best RAM for Gaming DDR4 and DDR5 Kits
Corsair Vengeance LPX DDR4-2666 (2 x 8GB)

TeamGroup T-Force Xtreem ARGB DDR4-3600 (2 x 8GB)

Patriot Viper Steel DDR4-4400 (2 x 8GB)

Patriot Viper RGB DDR4-3600 (2 x 8GB)

Patriot Viper 4 DDR4-3400 (2 x 8GB)

Corsair Vengeance RGB Pro DDR4-3200 (4 x 8GB)

Patriot Viper Steel DDR4-3200 (2 x 16GB)

Patriot Viper Steel DDR4-3600 (2 x 32GB)

G.Skill Trident Z Neo DDR4-3600 (2 x 16GB)