How to Delete a Blog on Blogger
How to Delete a Blog on Blogger: Blogger is a Google product. We can create multiple free websites on this Blogger platform & Google web hosting is available for free in it. Google provides us fast loading speed on blogger site & maintain unlimited traffic load. For this reason, Google Blogger is very popular.
We all know that Google services & Google Security are the best in this world; because blogger is Google's own platform.
Link: Blogger vs WordPress which is better for Blogging | Top 11 Tips to choose the best blogging platform to create your website | Google Services vs WordPress Services
Link: What is AdSense Invalid click & How to protect your Google AdSense Account from Invalid Click?
Why do we delete Blogger blog?
Delete Blogger blog: For two reasons people delete the blogger sites. 1st, as a beginner, we created a free website in Blogger. When we collected more experience in article writing and template customization on blogger, then we moved our website to the WordPress platform and delete our old blogger interface.
2nd, we create a new blog in Blogger account on a topic. After some time, we feel that the topic is very boring and we decided to delete the blog.
3rd, if we create multiple blogs on the same topic and if we cannot maintain those blogs. After that, we decided to delete those blogs.
In this Article, I will discuss how to delete blog. Before permanently deleting the blog, you must export all the posts and all the comments. Because all posts will be deleted after the blog is deleted.
How to Delete a Blog on Blogger
Step-1
Login your Blogger account (by using Gmail acc)
>> Go to Blogger window Top-Left corner >> Click on Drop-down-arrow
>> Select unwanted blog (which you want to delete)
Step-2
Go to blogger Settings >> Other >> Delete Blog (Click on it)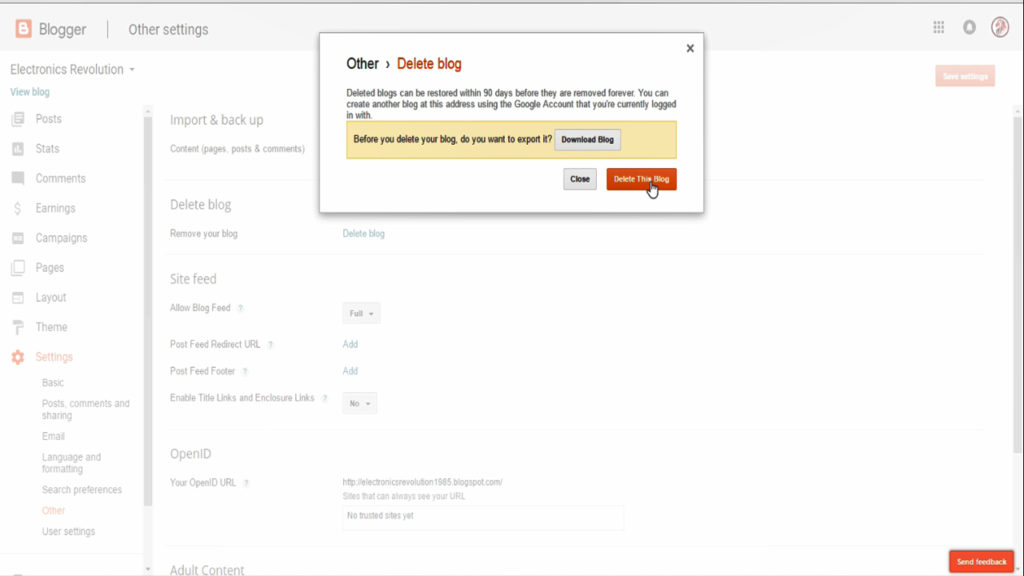 >> Click on Delete This Blog
Step-3
Permanently remove this blog from your Blogger account, follow this process.
>> Go to Blogger window Top-Left corner > click on Down arrow.
>> Go to Deleted Blog (Below the drop-down menu list)
>> Click on PERMANENTLY DELETE
If you do this process, unwanted blogs will be deleted from your Blogger account forever.